A desert landscape, as if from another planet. A few lonely, rusty shipwrecks.
Low desert scrub grows around them to hold the sand together during the merciless storms.
Aralkum, the Aral Desert, is the bare seabed, the last thing left of the Aral Sea.
By weaving together different cinematic textures, the short film Aralkum re-imagines the dried-up Aral Sea, allowing an old fisherman to set sail one last time.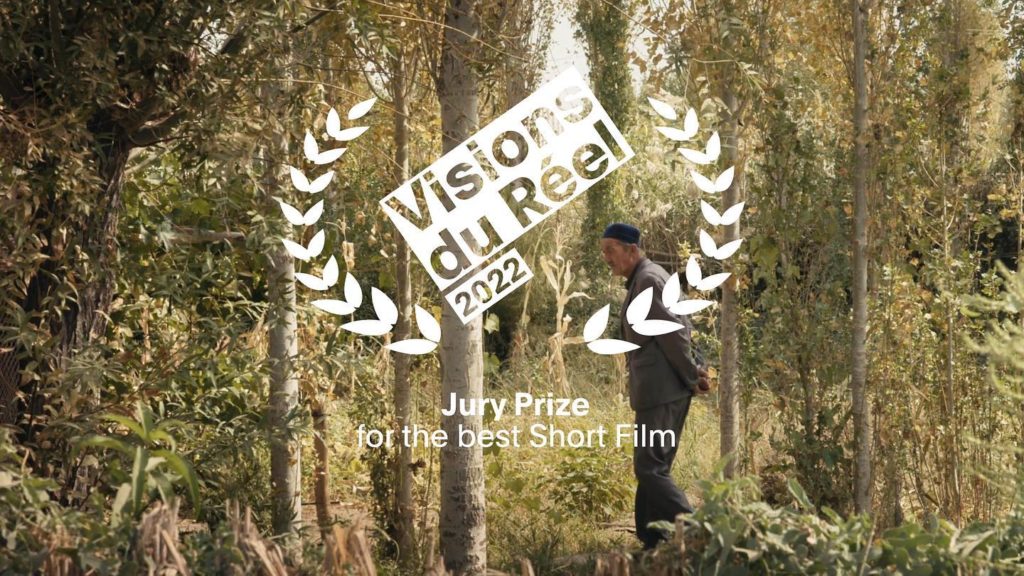 AWARDS
53. VISIONS DU RÉEL, Switzerland
*Winner JURY PRIZE Best Shotfilm*
qualified for Academy Awards Best Documentary Short
nominated for the DocAlliance Award
15. BELDOCS, Belgrade Documentary Festival, Serbia
*Jury Special Mention*
45. DRAMA ISFF, Greece
*Jury Special Award*
12. Int. Shortfilmfestival Cyprus
*Best Documentary Film*
15. Imagine Science Festival New York, USA
*Jury Special Mention*
26. Ji.hlava Documentary Festival, Czech Republic
nominated for Silver Eyes Shorts Award (Institute of Documentary Film)
23. GoEast Filmfestival, Germany
*Jury Special Mention Best Shortfilm*


2023 Starter Filmpreis awarded by the City of Munich
FESTIVALS

53. VISIONS DU RÉEL, Switzerland
15. BELDOCS, Belgrade Documentary Festival, Serbia
25. VIDEOEX Zürich, Switzerland
21. DOKUFEST Prizren, Kosovo
35. MONTENEGRO FILMFESTIVAL Herceg Novi
45. DRAMA ISFF, Greece
18. CAMDEN IFF, USA
20. TIRANA IFF, Albania
17. UNDERDOX, Germany
14. DMZ Documentary Festival, South Korea
17. SHORTS Mexico ISFF
17. TACOMA Filmfestival, USA
20. DOCLISBOA, Portugal
15. IMAGINE SCIENCE New York, USA
29. ETIUDA&ANIMA Krakow, Poland
41. UPPSALA Shortfilmfestival, Sweden
04. SAIGON EXPERIMENTAL FILMFESTIVAL, Vietnam
63. FESTIVAL DEI POPOLI, Italy
64. ZINEBI Bilbao, Spain
45. POITIERS Filmfestival, France
41. FILMSCHOOLFEST Munich, Germany
38. INTERFILM Berlin, Germany
05. FRONTERA SUR Festival, Chile
16. KFFK Cologne, Germany
03. LIMA ALTERNA IFF, Peru
23. IZMIR Int. Shortfilm Festival, Turkey
20. LONDON SHORTFILM Festival, UK
03. GUFA, Hong Kong
35. EXGROUND Filmfestival Wiesbaden, Germany
07. WINTER APRICOTS, Macedonia
44. MAX-OPHÜLS-PREIS, Germany
29. KURZFILMWOCHE REGENSBURG, Germany
22/23 UNIVERCINE Nantes, France
05. FIPADOC Biarritz, France
15. GO SHORT @ Movies that Matter, Netherlands
19. ZAGREBDOX, Croatia
20. BOGOSHORTS, Colombia
19. TRUE/FALSE Festival Missouri, USA
61. ANN ARBOR Filmfestival, USA
24. KUK Kurzfilmtage Schweinfurt, Germany
21. GoEast Filmfestival, Germany
09. CINECLASS Festival, France
32. FILMKUNSTFEST M-V, Germany
24. SHORTS TRIESTE, Italy
22. EUGANEA Filmfestival, Italy
11. AESTHETICA Short Film Festival, UK
17. ETHNOCINECA, Austria
35. FILMFEST DRESDEN, Germany
FUSION FESTIVAL LÄRZ, Germany
71. FILMKUNSTWOCHEN München, Germany
12. ECOFALANTE, Brazil
10. TENERIFE Shorts, Spain
10. BOZCAADA Int. Festival of Ecological Documentary, Turkey
15. ARCHITECTURE FILM FESTIVAL Rotterdam, Netherlands
01. MOSTRA DE CINEMA LA CIRERA, Spain
Part of Platform Asia Tour, playing @Royal College of Arts London, Near Now Nottingham and Fabrica Gallery Brighton
PRESS



The Aral "Sea" powerfully reveals the deadly impact of human activities—in this case, the intensive cultivation of cotton in the USSR—on an ecosystem.




Daniel Asadi Faezi (The Absence of Apricots, VdR 2018) and Mila Zhluktenko (Find Fix Finish, VdR 2017) film the shore's last inhabitants, who have lost their way of life to the desertification of their environment.


A beautiful and poignant work about our probable future.
–Emmanuel Chicon
The shortfilm prize goes to a film that opens a door on a landscape swept by human excess.
A poetic, political and aesthetic work where words and archives give birth to a sensorial experience on disappearance, loss, memory, oblivion, absence.
An unexpected and masterful cinematographic gesture that questions our humanity.
–Jury Statement VISIONS DU RÉEL
A film that combines a unique mix of documentary and experimental form. A warning story about the uncontrolled range that a human intervention to the environmental balance can take. A new cinematic reality very well constructed by the authors,  in an impressive movie. The Special Jury Award is bestowed to 
Aralkum.
–Jury Statement DRAMA Int. Shortfilm Festival
But the film also has an intense lyricism both visually and within its audio discourse, as we sense the sound of water while watching the sun set on (or rise from) the sand.
The filmmakers also distill the whole ecological dilemma of the region by simply reversing the motion of the sea's decades-old waves, as seen in archive.




– Nick Cunningham for BusinessDoc Europe


Read Full Article
The change of landscape seems to be received naturally, rather than rejected. But memory is tenacious, and cinema is above all an art of memory. To the precise, impeccable photography, a dissonant soundtrack is added. It seems that what is heard were echoes from a distant place, or from a remote time. In the sound space, a memory of decades, if not centuries, is built with engineering rigor, which ends up fulfilling the critical function of restoring the sea to the area.
Aralkum could be a film of mourning, it holds in its heart the absence of the sea and the pain of those who have known it. The objects of the sea are dead while men still live. In motionless shots, they appear with all their dryness like corpses frozen in the sand and in time; while the old fisherman walks aimlessly in his thoughts. How to speak to his granddaughter of a sea she has not known, which was nevertheless there? 
with Uralbay Utegenov
producer, director, editor | Mila Zhluktenko, Daniel Asadi Faezi
producer | Fozil Yunusov
cinematographer | Sadriddin Shakhabiddinov
sound recordist | Fazliddin Musurmonov
music | Giovanni Berg
narrator |

Kallibek Nagmetov



sounddesign | Daniel Asadi Faezi
re-recording mixer, sounddesign | Andrew Mottl
color grading | Nicholas Coleman – OASYS Digital
title design | Paul Rutrecht
2022 | Germany | 13:40 minutes | Experimental, Documentary | Karakalpak with english subtitles
©  Daniel Asadi Faezi 
| Lotas Film